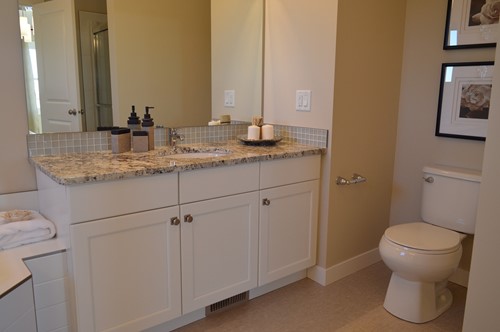 Whether you want to replace your current bathroom vanity or add one to a bathroom that doesn't have one, DIY bathroom vanities are a great option. Making your own bathroom vanities means you can design them any way you want. Your DIY bathroom vanities can blend in with the surrounding bathroom design or stand out and serve as a focal point. You can also make sure your bathroom vanities have a practical design or features that fit your needs. Consider the following ideas when coming up with designs for your DIY bathroom vanities.
Glass-Front Doors
Your bathroom vanity should include storage space for towels and toiletries, but you don't have to go with closed, solid door cabinets. Glass-front doors on vanity cabinets can make it easy to see which items are stored inside, so you can grab what you need. You can include paneled glass doors rather than full glass doors for a more decorative and charming look. If you don't want clear glass, you can choose frosted glass panels.
Dresser Vanity
If you don't want to build a bathroom vanity from scratch, consider using an old dresser. Give your old dresser a fresh coat of paint in a color that complements your bathroom or contrasts with it for an eye-catching design. Keep in mind that you'll need to remove the interior frame in order to accommodate plumbing. You can attach faux dresser drawer fronts on your DIY bathroom vanity afterwards and leave the bottom drawer in place as a storage spot. You can place a vessel sink on top of the vanity rather than cutting the top open for a built-in sink.
Vintage Vanity
For a DIY bathroom vanity with vintage appeal, choose salvaged or reclaimed wood to build it. Just make sure you use a sealer to keep these wood pieces protected from water or moisture, so they won't rot or warp. Combine your rustic wood vanity with marble remnants for a stylish countertop. Include a sink in a vintage design, such as a trough sink, to complete this old-fashioned look.
Elegant Vanity With Mirror
If you're looking to build a stylish bathroom vanity, consider making one that includes an attached mirror. Build your vanity in a design of your choosing, then add pieces of wood on top to hold a mirror in place. Include an elegantly framed mirror as the finishing touch. Consider painting the entire vanity and mirror in the same color, such as a bold tone for a striking look or a subtle tone for a soothing look.